Rosa Centifolia; Rosier de Provence (syn.)
Item
Title
Rosa Centifolia; Rosier de Provence (syn.)
Description
Designed by Matteo Florimi, Italian, active Siena, ca. 1581-died 1613, published by Francesco de' Franceschi, Italian, active 16th century, Venice.
From top to bottom, and left to right:
Design decorated with squares ornamented with an alternating pattern of circles with flowers at the center and diamonds containing different floral motifs.
Type
Prints, Illustrations, Botanical illustrations
Publisher
De l'imprimerie de Firmin Didot, imprimeur du roi de l'Institut royale de France, et de la Marine
Alternative Title
Additional title: Rosa centifolia L.' Major'
Rights
The copyright and related rights status of this item has been reviewed by The New York Public Library, but we were unable to make a conclusive determination as to the copyright status of the item. You are free to use this Item in any way that is permitted by the copyright and related rights legislation that applies to your use.
Item sets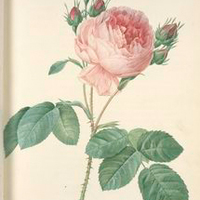 Rosa Centifolia; Rosier de Provence (syn.)